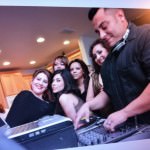 Ray, (better known by his close friends and family as 'Poncho') has had his finger on the pulse of music and mixing since his early teen years.  He started out mixing for family friends using binders and binders of CD's that he and his dad had compiled over the years.  If there was any type of event going on in Ray's large circle of friends and family…he was doing the music for it.
Even with the early equipment he could get his hands on, he figured out the breakdown of how to mix and blend songs,  using 2 separate home CD players pushing through a borrowed home stereo system.  His passion became more of serious past-time as he started funneling his own money into the next level of professional equipment.  With a taste of what was possible, there was no stopping him.  He jumped right into a wider range of venues and over the years has never looked back.
Ray has always been focused on making sure every detail of his gear looks 'just right' (although the rest of his DJ team will tell you it's more of an obsession).  That focus (*cough* 'obsession') is what drives him to be the best…and it shows.
Ray has literally grown up DJ'ing and as a Mobile DJ has performed at hundreds of venues ranging from Clubs and Warehouse Parties to Corporate Store openings and Wineries and just about everything in-between.  Ray has a special skill for his craft and translates that professionally into each of his Wedding Events.  His second nature ability to imagine and build great mixes, helps him deliver a high energy impact for every event he spins at.