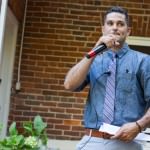 Chris' strong focus on the big picture has always helped him stand above the rest when it comes to making his Clients happy. With a real interest in how things are 'flowing' at each of his Events, he keeps one ear on his mix and the other ear on his Client and guests. A great front-man for the team, he is entirely about making sure everything goes your way.
He's been on the cutting edge of mixing technology from the early days of digital mixing (being one of the few first DJ's to incorporate a computer into his gear…using a tower and monitor before laptops were even affordable).  Chris' love of DJ technology keeps Epic Events at the forefront with the best gear available, which translates into the best results for their Clients. His grasp includes the ability to pre-edit songs, create studio mixes for mash-ups, and build crossover songs for special occasions…if you can think it…he can create it for you.
There's no substitute for the experience that comes from years of mixing and MC'ing at hundreds of Weddings; combined with the advantages of cutting edge DJ technology.
Chris combines the best of the old-school 'connecting with people' approach with new-school technology that allows Epic Events to push their creative edge further with each mix.